The market is at an all-time high, What next?
Despite widespread talk of a recession, the stock market is at an all-time high. What is your trading strategy now?
Hello guys, I hope you are doing well. Despite widespread talk of a recession, the stock market is at an all-time high. What is your trading strategy now?
As I always said that market is unpredictable and no one can predict it right all the time. So of we react based on the data and trend, chances are high that we will be on the side of market and manage our traders well.
In this post also, I'm not trying to predict anything but analysing data and reacting based on the picture market is showing to us.
before move further lets us looks at the daily chart of Nifty and BankNifty to find overall trend and levels.
Nifty and BankNifty chart today
Now if you look at the daily chart on Nifty and banknifty, you will find that despite of profit booking from the higher levels and range-bound activities in the last few weeks, both the indices were holding its UP trend.
There was no signal for a short position. That's why I have shared and instruct to all the students and follower in my live market sessions and weekly newsletter that let Nifty and Banknifty give a clear indication of short signal, then only we will place a short bet. Till then hold your longs.
Now when both the indices trading at all-time high, what should be the trading plan?
Trading Plan for the next few weeks
Now when we have got the breakout and Nifty and BankNifty is trading at all-time high, should we place a long trade here?
My answer is: NO
A breakout can be a successful breakout only if script manage to sustain above that breakout level and volumes are high.
In Nifty, you can see that volumes are very high but bank Nifty, we can see volumes are not that great.
So, I prefer to wait for some more days to check whether its a successful breakout or its just a trap.
To get more clarity about the breakout, I always give more importance to OI data rather than price acting.
So lets look at the OI data to find the range and levels:
Option Chain Analysis of Nifty and BankNifty
Now lets look at the Nifty Option chain data first:
Based on the Oi data, range is 19000 - 19200.
Although range has been shifted to high levels but if you look at the OI data around 18800 - 19000, people are not shifting their positions to higher levels.
We can see huge PUT writing at 19000 and now this level is acting as immediate support.
Now we must keep an eye on this level; if the Nifty manages to keep the OI at 19000 and the PCR above 2, we may see some more upside levels in the coming sessions.
If the PCR falls below 2, the Nifty will return to its previous range of 18800 - 19000. As a result, it is critical that the PCR at 19000 remain above 2.
In BankNifty, range has been shifted to 44200 - 44800 and 44000 is acting as a strong support level.
We can see huge call and put writing at 45500 which is acting as max pain.
As I have said in my last weekly newsletter that for further upside levels banknifty has to give a sustainable breakout from 44500. Than only we may see some more upside levels in the coming sessions.
In short:
Levels to keep on radar for further upside movement are: 19000 in Nifty and 44500 in BankNifty.
Weekly option strategies for July 06, 2023
Based on the above chart and data analysis, I prefer to go with neutral strategies until I an not getting a clear confirmation of sustainable breakout.
One of the best strategy that I recommend for beginners is: Iron Condor option strategy.
You can create the strategy based on the above range. If you don't know how to make and adjust these option hedging strategies, you can join our Option Strategies: A Mentorship program.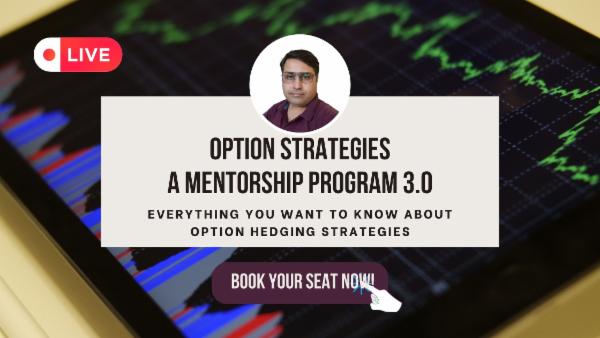 In this mentorship program, we teach everything from very basics strategies to some advanced strategies for weekly and monthly expiry.
Conclusion
I hope now you understand how to analyse data to make a trading plan based on open interest data.
Always keep in mind that every system has some limitation and proper understanding of the basics is required to manage your traders well. So invest in your learning and find a good mentor to bring some real change in your trading.
Have a profitable trading!
---
DISCLAIMER: – we are not a SEBI research analyst. Views posted here only for educational purposes. There is no liability whatsoever for any loss arising from the use of this article or its contents. This product is not a recommendation to buy or sell, but rather a guideline to interpreting specified analysis methods. This information should only be used by investors and traders who are aware of the risk inherent in securities trading.