Market Trend Analysis and Important Levels for August 31, 2023
Read the post to know the Market Trend Analysis, Important levels and options strategies in Nifty and BankNifty.
Hello dear friend, in this blog post, we will do the intraday trend analysis and will try to find support and resistance for today in Nifty and BankNifty. So read the post till the end to know what the trading plan could be today based on the trend and levels.
After a range-bound activity, the Market opened flat today, but we can see some long buildup on the lower side.
Despite of long buildup, Nifty and BankNifty, both are trading in a range. A need a sustainable breakout for further levels.
The overall trend looks bullish where 364 stocks are advanced, 133 are declining and 3 are unchanged in the Nifty500 index. So overall trend looks bullish today with a bullish short-term sentiment.
Intraday Trend Analysis Based on the chart
After a good rally, We saw some profit booking last week. Now Nifty is trading in the range of 19400 - 19900. This range is important for further levels. A sustainable breakout or breakdown from this range will trigger a long or short signal.
BankNifty also trading in a range after a good rally in the last 2 months. Now bank nifty is consolidating in the range of 44800 - 46200 And we expect further upside only after a successful breakout from the 46200 level. On the downside, a breakdown from 44800 will trigger a short trade for the target of 43200.
Based on short-term trends we can create some neutral strategies till we are not getting any fresh breakout or breakdown. Increasing IV also gives a good opportunity to deploy some credit spreads with neutral views like Batman Option Strategy, Iron Condor or Iron Butterfly.
Intraday trend analysis based on OI data
For Nifty: 19600 is acting as immediate support with a PCR at 2.23 and resistance has shifted to 19800 from 19700 with a PCR at 0.3. Max pain is at 19700.
For BankNifty: 45300 is acting as immediate support with PCR at 2.66 and 45800 as immediate resistance with PCR at 0.28. Max pain is at 45500.
Expiry Range:

For Nifty = 19500 – 19900.
For BankNifty = 45000 – 46000 ( based on current oi data. Keep following change in Oi for further levels)
The intraday trend is "Bullish" in Nifty and "Neutral" in BankNifty. (based on our trend-following sheet and setup)
Trading Plan for Today
Because of the trend, we can create bullish strategies in Nifty and Neutral strategy BankNifty:
In Nifty, We can short 19500 PE while keep following the data
In Banknifty, We can create a short strangle with 46100 & 45100 strikes.
One thing you should keep in mind is that the above trades are based on the current data and need some adjustments if data changes. So proper knowledge and understanding are required before taking entry into any position.
If you don't know who to create and manage these option strategies, Option Strategies: A Mentorship Program would be the best online course for option trading.
I have also shared my Intraday strategies and trading setup in a small course. You can click on the below link to get access to the course.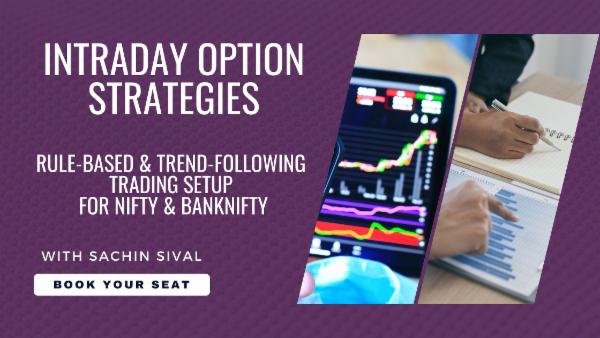 ---
DISCLAIMER: We are not SEBI research analysts. Views and trading strategies are posted in this weekly market newsletter only for educational purposes. There is no liability whatsoever for any loss arising from the use of this product or its contents. This product is not a recommendation to buy or sell, but rather a guideline for interpreting specified analysis methods. This information should only be used by investors and traders aware of the risk inherent in securities trading.